A restaurant staple in the Downtown Burlington community for over 25 years
We're a neighbourhood restaurant where folks come together for comfort food classics, weekend breakfast and brunch, lunch meetings, family dinners, first dates and late-night bites.
We're a bar where locals come together to raise a glass on our patio, have a cocktail at the Tiki Bar, watch all the big games on our big screens, party in our underground lounge, or just relax after a long work week.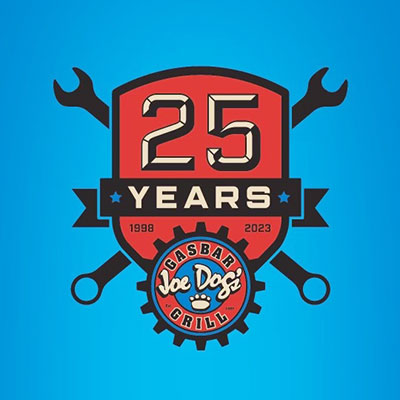 Joe's famous chicken wings, stone-oven baked pizzas, burgers, sandwiches, fajitas, slow-cooked ribs, and a special kid's menu too; we have been making comfort food classics for over 25 years.
Order Joe's to GO!
Craving comfort food but don't feel like cooking? Friends stop by unexpectedly and your cupboard is bare? Joe Dog's Gasbar Grill to the rescue!
Place a pick-up order by calling 905-632-5110 or order thru one of the following delivery services.
Pick-up Orders:  All food-to-go orders must be called in.
We do NOT accept orders sent to us by email.
Call: 905-632-5110